News Flash
Masterclasses
Discover the secrets of 9th art in the company of exceptional speakers
Published on 13 October 2023
Throughout the first quarter of this year, the Comics Art Museum is hosting a series of masterclasses. Once a month, we will be welcoming a renowned author. The author will give a talk on the theme and/or angle of his or her choice.
These topics will be presented in the language preferred by the artist.
Friday 13/10 - Masterclass with Dave McKean (sign up here)
Thursday 16/11 - Author to be announced
Thursday 14/12 - Masterclass with Benoît Peeters (sign up here)
Thursday 11/01 - Masterclass Jean-Christophe Deveney
| | |
| --- | --- |
| When? | (+/-) every 2nd Thursday of the month (this may vary), at 6.30pm (+/- 2h) |
| Who can attend? | Artists, industry professionals, aspiring artists, fans |
| What? | A masterclass with a well-known author |
| How much? | €10 (€5 for authors) payable at the museum cash desk |
| How can I take part? | Registration via Google Form (per masterclass) |
DAVE MCKEAN - 13/10
The first author to take part in these Masterclasses, Dave McKean is a multi-faceted British artist. He is an illustrator, photographer, graphic designer, comic book artist, film director and musician. His pictorial work is a mixture of drawing, painting, photography, collage, computer graphics and sculpture.
During his masterclass, McKean will talk about his 35 years long carreer in comics, illustration, design, film and theater. He'll discuss these topics on the occasion of his book Thalamus, to be published in November, in which he looks back on his career. In 2022, he delved into the world of artificial intelligence and made the book Prompt: Conversations with Artificial Intelligence. About AI and its impact on creativity. McKean will discuss this topic in detail.
McKean has illustrated authors such as Neil Gaiman, Grant Morrison, Heston Blumenthal, Ray Bradbury and Stephen King. He has also directed three feature films.
McKean worked as a concept artist on the television mini-series Neverwhere (1996), created and co-written by Neil Gaiman, and on the feature films Harry Potter and the Prisoner of Azkaban (2004) and Harry Potter and the Goblet of Fire (2005).
You can sign up here for the masterclass by Dave McKean.
BENOÎT PEETERS - 14/12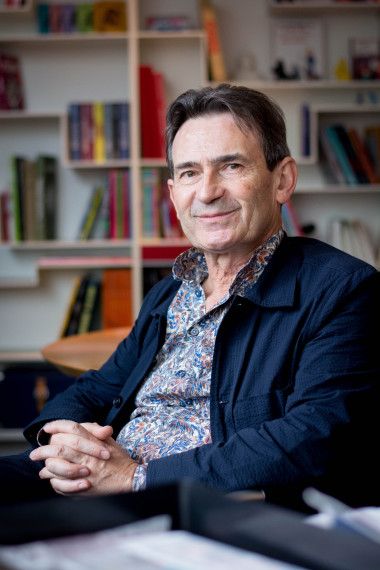 © Photo Casterman // Benedicte Maindiaux
Benoît Peeters, born in 1956, is a writer, screenwriter and editor.
He is a Hergé specialist and has written three books about this topic: Le Monde d'Hergé, Hergé fils de Tintin and Lire Tintin, les bijoux ravis. Both a theorist and critic with a wide range of interests, he wrote numerous essays on comics, scripts and collaborative writing, as well as on Jacques Derrida, Paul Valéry, Alain Robbe-Grillet, Sándor Ferenczi, Jirô Taniguchi and Chris Ware.

His long collaboration with cartoonist François Schuiten led to the creation of the Cités obscures cycle. Fifteen albums have been published so far, winning several awards and they have been translated all over the world.

Benoît Peeters is passionate about stories in all their forms and has collaborated with other cartoonists such as Aurélia Aurita and Frédéric Boilet, photographer Marie-Françoise Plissart and filmmaker Raoul Ruiz. He held the "artistic creation" chair at the Collège de France in 2022-2023, where he taught the poetry of comics.

You can register for Benoît Peeters' masterclass here.